Sushi Meow
Have you been to such a cute sushi restaurant! This cat-themed sushi restaurant designed by Twenty Interior is directly opposite Sydney's Bondi Beach!
Whether it is a large logo lightbox with a cat eating sushi or a beckoning cat with countless gestures inside and outside the store, cat elements are everywhere.
The designer uses four different interior materials for maximum visual processing: grey mosaic flooring, light beige wood, white plaster walls and dark subway tiles. These subtle changes in colours and the design of Japanese elements create a sense of hierarchy in the space.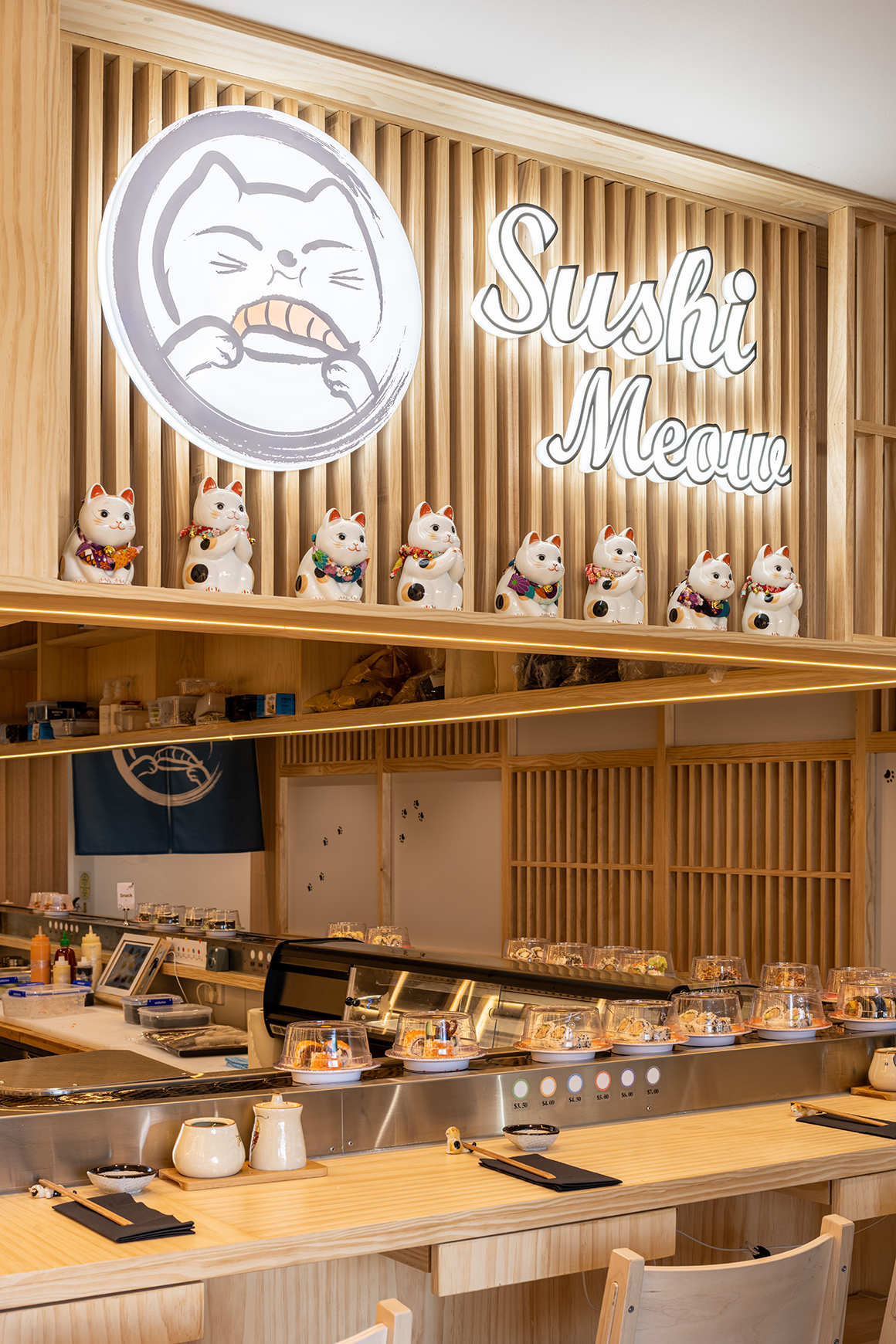 The space decoration of SUSHI MEOW mainly uses simple straight lines, which caters to the Japanese pursuit of an introverted and straightforward design style. Including the extensive use of natural materials, it also makes the space more elegant and restrained.
With cat elements, the restaurant has a unique style and a more personalized concept. Not only is it in-depth, subtle, and cute, but it also gives people a sense of meticulous care.
Take-out at the front desk made of light-coloured wood in the store door, cooperate with the booth on the right for brand marketing and lightbox logo. Create the most beautiful and eye-catching doorway in the whole street. The wooden counter extends to the front desk on the right side of the entrance. The practical and convenient groove design is suitable for guests to put their bags in during checkout.
The Japanese-style display stand opposite the cashier area is also an ingenuity in brand marketing. Placing branded products deepens the brand's impression by customers coming in and out and adds a lovely atmosphere to the restaurant environment.
The Japanese-style sliding grille is a feature of Japanese-style space, using screens to separate different functional areas. Designing the characteristic length of wooden cabinet space is practical and beautiful.
The bright lantern cat paw prints, fish and other graphic design elements visually show the storyline of the two cats playfully.
The revolving sushi bar also revolves around a design language, the front logo and grille design. The cat welcomes the guests in a grand.
The design of creative countertops, menus, custom chandelier ring lights echo the bar's outline, listing menus, and wine cabinets are solid Japanese styles.
Japanese Lucky cat and Japanese sake that the owner's private collection, light and music complement each other and change continuously throughout the day. It is also an izakaya full of atmosphere.
The brand features of Sushi Meow are comfortably displayed in the light wood veneer. The circulation of the brand makes people have an intimate experience in the space. There is no direct aggressive advertising and naturally spent time on dining.
If you have a grandiose vision or project and want to bring it to life then Twenty Interior Design & Renovation can help you realise your dreams. For any questions or queries please get in touch today to discuss your ambitious plans!