ROSE & CO MACQUARIE
ROSE&CO, a well-known and old Australian chain flower shop, is committed to providing the most exquisite flower arrangements and gifts, bringing happiness and sweetness into people's lives.
As an old customer of TWENTY INTERIOR and opening a new store in Parramatta at the beginning of this year, East Village, Macquarie, and Marrickville are also currently undergoing interior renovation new store. The flower shop in the Macquarie Shopping Center has also opened.
Locating in the shopping mall of Macquarie, the designer uses unique black floor and wall materials to contrast the colours of the wonderfully matched artistic bouquets, giving the store a lively and enthusiastic atmosphere with a touch of mystery and sexy.
Spread the unique hand-made flower baskets freely, assembling small chandeliers and vegetation on the ceiling, create a three-dimensional world full of flowers from the visual sense of space.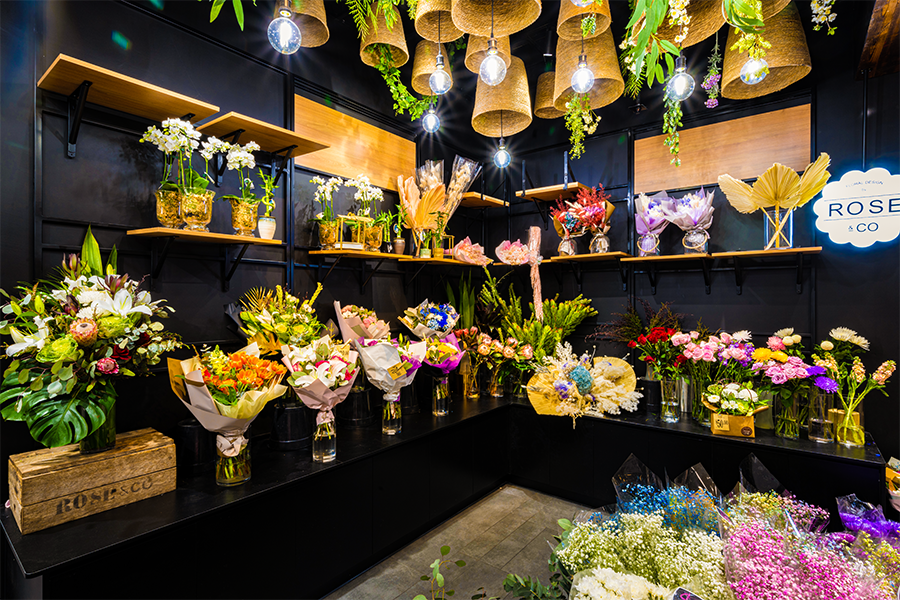 Cooperate with the movable and free splicing shelf modular system wall specially designed by the designer for ROSE&CO (use metal grids, environmentally friendly wood, and black steel frames) to arrange the messy flowers and plants more neatly artistically.
The design of the door is also very particular. The packaging of flowers inspires this design. Like the pattern produced by folding the wrapping paper in retro and natural colours, the store shows a fresh and pastoral sense of art. Although half of the storefront is located on the side of the stairs, considering the use of space, TWENTY INTERIOR cleverly uses the brand's iconic flower wall while emphasizing the brand value and characteristics, the bright and conspicuous lightbox on the black wall also guides the pedestrian's sight at the entrance.
The movable marble at the front desk is convenient for transporting flowers and plants to the cold storage. With the black mirror splash-proof baffle, the entire flower shop space is visually enlarged.
Compared with ordinary retail stores, flower shops have higher aesthetic requirements in terms of interior design. Our Shop fitouts team is modern and result orientated. Our installers are very experienced in the installation process. Twenty Interior Shopfitting fitouts create quality outcomes for businesses and Brand development.
You are most welcome to call us, tell us about your business idea and we are a pleasure to help you to bring it to real life. Cooperating with a reliable shop fitting designer is the first step to a successful business.